Main content starts here, tab to start navigating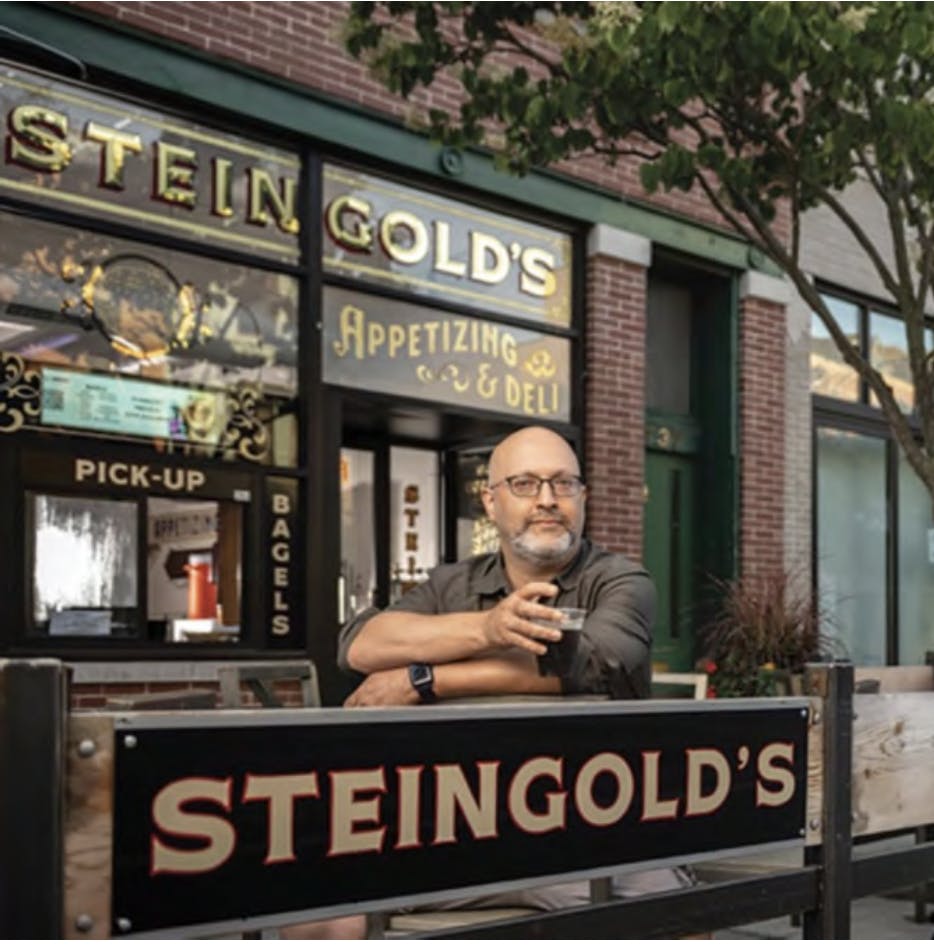 As a kid, Virginia-born, North Carolina-raised Aaron Steingold often went on family trips to his parents' native New York City. There, he developed a passion for the classic delis of the Lower Eastside. Many years later, when he moved to Chicago and couldn't find the food that held a sacred place in his childhood memories, he took matters into his own hands and created Chicago's Steingold's Delicatessen, which keeps a firm foot in the timeless traditions while bringing the Jewish deli to a more modern and relevant place.
But before Steingold opened his dream deli, he acquired plenty of hands-on restaurants and culinary experience. At 15, he started first in the back of the house—initially as a dishwasher before moving on to prep cook and then line cook—before moving to the front of the house as a server, bartender, sommelier, and finally a general manager. His resume includes notable Charleston, South Carolina, restaurants Peninsula Grill, Magnolia, and Kiawah Island's Ocean Room.
Looking to work at one of the world's best restaurants, Steingold moved to Chicago in 2007 to become a server at Charlie Trotter's, where the level of service that puts the guest's needs above all else was in line with his own. In 2008, Steingold headed over to celebrity chef Art Smith's Table 52 as general manager
In August 2017, Steingold along with his wife, Elizabeth Abowd, opened his eponymous restaurant in Irving Park. In 2021, this rebellious deli moved locations to Wrigleyville to expand the shop and the business to include Steingold's Collective where he features his favorite gourmet food items and locally sourced specialty products in coloration with L &M Fine Foods.
Steingold's is a rule-breaking and innovative take on the modern Jewish Deli. You may even smell bacon when you walk in the door.
Aaron grew up and survived his college days on bagels and schmears. Steingold's is inspired by so many of the traditional delis in the past but innovates the menu in a way that it stands the old school deli on its head.
The bagel game is no joke, we take our bagel game very seriously. They were in development for years before opening our doors. Our bagels are baked fresh daily. Every step of the bagel production is key to its success. The bagel dough is mixed,, fermented, cut, hand-rolled, steamed, topped, and baked to perfection. The final step is up to our customers as to what to put on them next!
Aaron named his signature sandwiches after his deli-loving family members honoring them each with a sandwich worthy of their name and deli favorites.
Steingold's has developed a product line for wholesale customers. The line includes FreshDaily Baked Bagels, Par-Baked Frozen Bagels, Pastrami, Pastrami Turkey, Corned Beef, Nova Lox, and Pastrami Lox. The Nova Lox and Pastrami Lox are also available in four-once packages for retail purchase
Aaron and Liz are proud of the team that has helped them make Steingold's neighborhood favorite.
Our customers are everything to us and it warms our hearts to see so many regulars ordering at the window daily.
AARON STEINGOLD- OWNER /CHIEF BAGEL + SCHMEAR EATER